Return to Headlines
WSD Receives Accreditation in Latest Annual Performance Report (APR)
March 7, 2023
The Missouri Department of Elementary and Secondary Education (DESE) released its 2022 Annual Performance Report (APR) for all Missouri school districts, including the Wentzville School District (WSD), on Tuesday, March 7. The report showed that WSD received a score of 84.2%, which falls within the accredited category. This year's APR was based on the new Missouri School Improvement Plan (MSIP) 6, which is in its pilot year.
The APR revealed many notable accomplishments of the WSD, including North Point High School earning 95% on their school-level APR, an increase in students proficient or advanced in math and science, and all students being on target for English Language Arts (ELA).
"There is a lot to be proud of in the Wentzville School District," said Dr. Danielle Tormala, superintendent of schools, "We are moving the needle on academic success in many areas, and it is truly impressive to see."
Despite these achievements, the APR also highlighted several areas for improvement. The WSD has already taken steps to address some of these areas, such as the drop in students proficient or advanced in ELA, by establishing cohorts of teachers trained in the Science of Reading.
The WSD has also added a focus on small-group instruction and student-centered coaching and recently made a strategic and concerted effort to ensure the District, school, grade level, teacher, and individual student goals are in full alignment. The District tracks academic progress data throughout the school year using iReady so that student successes and areas for growth can be quickly identified and addressed and intentional instructional adjustments can be made prior to the annual culminating MAP test.
"We are not here to chase points for APR; we are here to do what's best for our kids, but we will continue to look closely at these results and find ways to improve where possible," said Dr. Tormala.
The District is calling on families for their continued commitment and collaboration in playing an active role in their child's academic journey and partnering with the schools to help move students forward. Attendance and post-graduation follow-up also play a role in the District's APR score.
The 2022 APR scores were measured using a new set of criteria and the process was described by DESE as "transitional, not transformational." DESE shared that "because MSIP 6 is a new system with different scoring, it is inaccurate to compare a Local Education Agency's (LEA) 2022 APR score to previous years." On average, districts saw a 16-18 point drop in APR, with 63% of districts earning below an 80% APR.
MSIP 5 and MSIP 6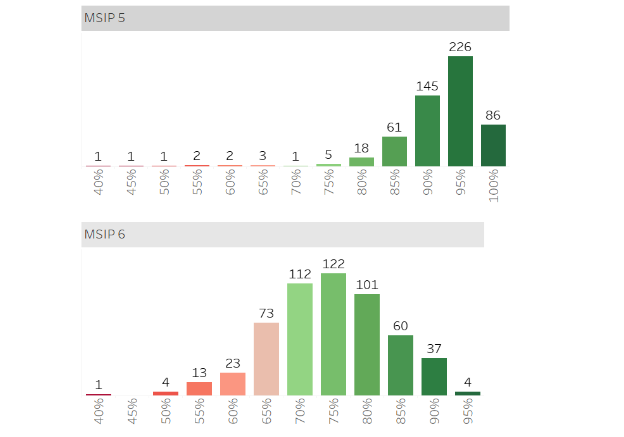 A look at Missouri school district APR scores for MSIP 5 and the new MSIP 6
"MSIP 6 is designed to distinguish the performance of schools and LEAs in meaningful ways to help identify areas in need of support and recognize models of excellence," said Margie Vandeven, Missouri Commissioner of Education. "For the release of this pilot year data, we encourage stakeholders, including community partners and families, to focus less on the APR score and more on the underlying data to learn how they may better support student learning."
"Our APR does not come as a surprise, as we are already laser-focused on many of its measures," Dr. Tormala said. "We are doing great work, and with the support of our community, staff, and students, I'm excited to see what the future holds for the WSD."
The District will report on the data at the upcoming Board of Education meeting on Thursday, March 30.