Return to Headlines
COVID-19 Mitigation Survey
Per Board request on Dec. 8, the administration presented updated mitigation measures for the District at last night's meeting. The following measures – below and linked here – were approved by the Board and will go into effect upon return to school on Jan. 3, 2022. If you'd like to provide feedback on these items, you can do so here.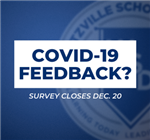 Masking
Physical Distancing
Return to typical standards; encourage physical distancing when possible; increase physical distancing when possible during an increase in cases
Handwashing and Respiratory Etiquette
Handwashing and respiratory etiquette taught and reinforced with signage posted
Hand sanitizer provided in every classroom and in communal areas
Provide time for handwashing, as needed
PPE provided in clinics
Masks available to students, if needed
Encourage proper respiratory etiquette and maintain heightened protocols for symptomatic individuals
Cleaning and Maintaining Healthy Facilities
Nightly targeted cleaning of high-touch surfaces and all classrooms
Routine targeted fogging (weekly in each building and nightly in health clinics)
Diagnostic & Screening Testing
Testing provided at LPHA and within in district Mercy clinic
Will continue to collaborate with SCCDPH
Vaccination Efforts
Will continue to collaborate with SCCDPH to bring awareness to vaccine events when needed
Accommodations for Children with Disabilities
Create and follow accommodations, as needed, for students with Individualized Education Plans, 504 Plans, or Health Plans
As a reminder, the Board voted on Dec. 8 to return to the communicable disease prevention measures under Board Policies and Regulations, unless otherwise ordered by SCCDPH subject to further Board action, effective Dec. 22. Contact tracing procedures for close contacts are set to cease and will not be in effect upon return to school on Jan. 3, 2022.
Provide feedback here.